December 28, 2012
I love the time between Christmas and New Year's. Just a couple days after one holiday and a couple of days before the next, the week between gives me a chance to think about the year that was, and the year that is lies ahead.
The wonderful chaos of Christmas is behind me and there's the proverbial "calm after the storm."
What will you do with the relative calm of the next few days?
Once the presents have all been unwrapped and company has gone home, we're great at looking ahead to next year and all the ways we want it to be different. We're ready for a fresh start. A new wall calendar. Maybe a gym membership. Perhaps a January cleaning or organizing spree.
But what about bringing this year to a great close?
How can you finish the journey of 2012 well?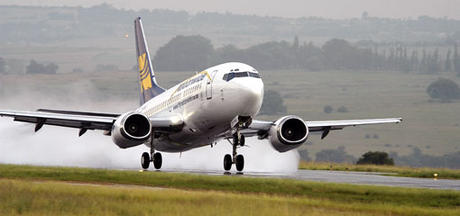 Think about this like a journey on an airplane. You take off, reach cruising altitude a few months into the year, then you can feel free to move about the cabin a while.
Soon after Christmas you hear the captain say: "Flight Attendants, please prepare the cabin for final approach." This means your trip is almost done. The journey is about to end. You are getting ready to land. But have you prepared for landing?
If you don't intentionally land in a plane, what do you do?
You crash.
I suspect most of us just crash at the end of the year. We're exhausted from the speed in which the year ended, and slightly dazed from the Christmas celebrations. Engines off. No preparations made for a final approach. We just shut down and crash until the new year appears.
And in our exhaustion, we fail to make time to intentionally land the year we've just lived.
I want to invite you to use this week a little more intentionally – not just to prepare yourself for 2013, but to bring 2012 to a close.
For many of us, the end of one year and the beginning of the next happen in the same moment. There is a ten second count down. There are kisses and confetti, party horns and people all around us. Fun, but not a real conducive environment for reflection and stillness.
Can I suggest you schedule time in these days between the holidays to intentionally land 2012?
Make an appointment with yourself. I like to do this over a couple of early mornings when I can find some quiet uninterrupted time.
Reflect. Consider. Journal. Pray. Re-center. Re-establish priorities. Record what you've lived and learned.
For example, ask yourself:
– What are my fondest memories from this year?
– What were my biggest accomplishments?
– What were the defining moments of my heart and character in the last year?
– How did my one word shape, guide or define my year?
A new friend, Tim Elmore posed some great questions to help you land the plane as you arrive at the end of this year. I think they can help us find some needed clarity at the close of 2012. Check out his post on that here.
This is a great time for you and me to prepare for the closing of one year and the beginning of the next. That way when the clock strikes midnight in a few days, we'll know precisely what it is we are celebrating the end of, along with the beginning of.
HAPPY NEW YEAR from us at My One Word!
One Response to "LANDING 2012 WELL: Using the Week Between"