July 17, 2013
We love hearing how people are practicing journaling in their My One Word journey.  We received the photo and note below from Martha Myers. Perhaps her method will give you some ideas for writing in the pages of your own journal today.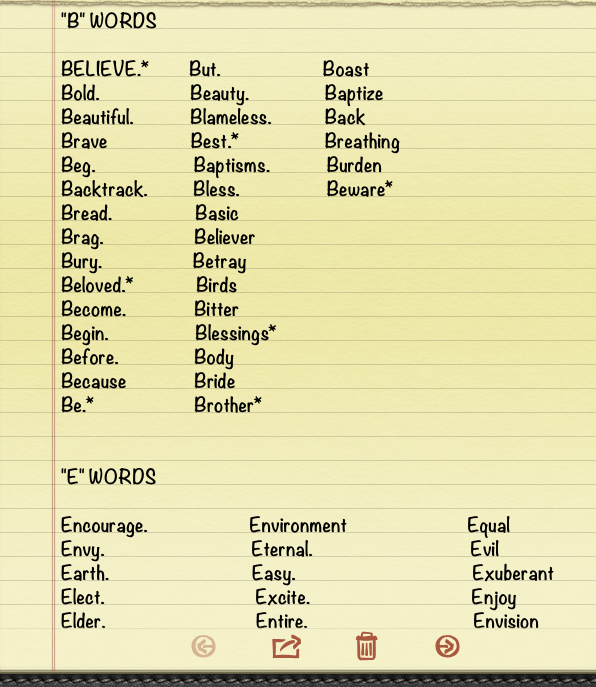 "My one word this year is BELIEVE.
My mantra has always been God first, others second, and self third. I have transferred that mantra to my one word in that through my focus I hope to believe more in God, believe more in others, and believe more in myself.
I had been an avid journaler for a long time, although for many reasons I had strayed from journaling over the past couple of years. So naturally, I was excited and pleased to see a whole chapter in My One Word devoted to journaling. Maybe THIS would get me back to journaling!
It has.
What I did to assist me in getting started is to write each letter of "believe" on a separate line, with many spaces in between. Then, under each letter I wrote words that start with that particular letter. Not just ANY words, they are words that either (a) somehow link back to believe, (b) relate to the changes I hope to see in myself this year, or (c) come from scriptural passages I am reading as part of my daily devotions. The list is constantly growing.
But, creating those lists is only part of my approach. Each day as I prepare to write in my journal, I scan the lists of words for one that particularly speaks to my heart in that moment. That word then becomes the first word written in my journal entry that day. Then the journaling begins!
I think and write about: How does the scripture passage for that day connect to that word? What are my thoughts about that word? How is that word present in my heart? What is the relationship between that word and my relationship with God? And finally, how are that word and my one word connected?
While I may not address all of those questions in each entry, they do give me a framework and a starting point, especially on those days when I'm stuck. Using this strategy, I can see how it's helping me stay focused on my one word, and how it has the potential to lead me to grow in ways that I had not previously seen.
Most of all, this has helped me return to journaling, and for that I am so very thankful!"
Thanks for sharing this with us, Martha.
Reach us at info@myoneword.org if you'd like to share your my one word story with us.