January 3, 2019
My One Word: BEHOLD
1 John 3:1
"Behold what manner of love the Father has given to us…"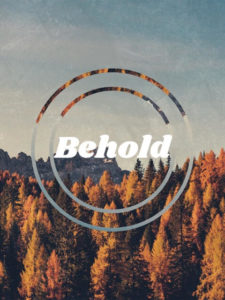 This year my one word is Behold. To behold requires one to see. But not just to give a glance but to gaze. The literal meaning is to altogether hold, to behold.
I originally had picked Vision. I wanted something forward- something ahead. So I began to search the Scriptures. God comes to Abram in a vision (Gen. 15:1). The vision isn't just a picture of a future but an unfolding promise. The vision is an invitation. It is an invitation to stop planning and stop pushing and just respond to what I see. It is an invitation to gaze— to behold.
So I chose behold because it is about vision. But it isn't about achieving or advancing, but it is about walking in response to beholding God's vision for my life. 1 John 3:1 says "Behold what manner of love the Father has given to us…"
BEHOLD
Have you picked your word for 2019 yet? I'd love to hear it!
Mike A