June 16, 2014
A Note from My One Word co-author Rachel Olsen: Earlier this year I went to the movies with a gal from my church – the wife of one of our staff members. I can't really recall how exactly that came to be But our somewhat random encounter lead to a new friendship, and that's given me a front RoW seat as I watch  God usE her one word for 2014 to hold her close and steady in the palm of His strong, right hand. I asked her to share her story here ….

"Looking back at my journal, reflecting on My One Word for this year, I am astounded at God's faithfulness. Seeing things through the lens of my word has allowed me to face things that once terrified me with a calm that goes beyond all human understanding.
I used to be the person that panicked in the face of the unknown.
When fear set in, my human emotions would take over. When I originally chose my word STEADY this year, I had in mind for it to help me through life's rough waters. Instead of responding with my human, unreliable emotions, I wanted to stand firm in my faith and face life. But secretly I worried God would test my faith if I chose this word.
I knew what my 2014 word would be last fall. I felt it whispered in my heart. After trying for two years to conceive another child, and finally getting pregnant, it ended traumatically as an ectopic pregnancy. It was awful, but I got through it. I kept telling myself that my emotions (while very real) are not very reliable. The only STEADY ground is in His truth.
But I just wanted my heart and life to stabilize.
While I was recovering from the surgery, I found out that my grandma had terminal cancer. She's been my favorite person in the whole world. My heart was completely broken. Four days into 2014 and my one word STEADY, I lost her. I do not know if she knew Jesus. But I know that I did everything I could to show her who He is.
Once again I felt my emotional stability go out the window. But here's the thing, as I look back in my journal I'm reminded of a few things. Little and insignificant as they may seem, I see where God provided ways to help steady me through the grief. I've always loved going to the movies. A couple hours zoning into a good story, yep, good stuff. I don't go often, only when it's something I'm really excited to see. It so happens that there was a movie out that I had been itching to see: Saving Mr. Banks.
I was on my way home from going through grandma's belongings when I made plans to see the movie that night with someone I didn't know all that well. I didn't care. I just wanted to see the movie and forget the last few days. Even if just for a few hours. Turned out to be a precious time. I saw a great movie, took a break from reality, and got to know a new friend. God is faithful. He knew what I needed when I didn't.
He helped to steady me.
Over the next few months He met me with more unexpected surprises. Fun things I saw as gifts from Him. He knew what I needed better than I did.
In fact, so many unexpected good and fun things have happened in the last several months that my word morphed into a different meaning. It once meant for me to STEADY my heart and emotions when rough waters hit. But I was getting so wrapped up in the fun that I started neglecting daily responsibilities. What a great problem to have! So I had to steady myself in a different way. Responsibilities first; fun second.
It never occurred to me that my word could be a lens for me to see the fun and exciting things God has for me. I always thought of it as a way to help get me through hard times. As a result I began to see God as someone who loves me. Really loves me.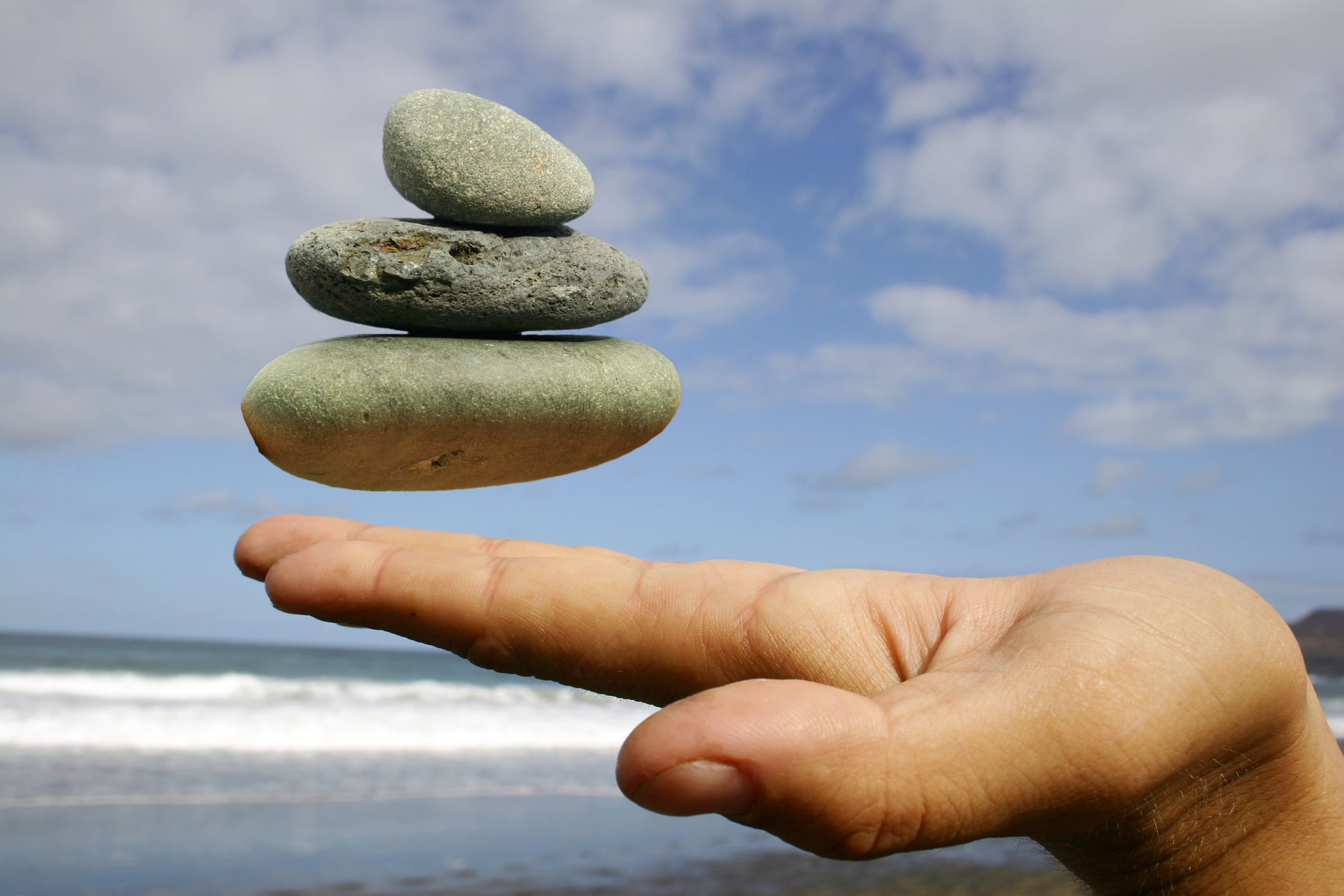 This brings me to my recent circumstances. A few weeks ago I was diagnosed with a birth defect in the base of my skull – as a result, I am told, I will likely need major brain surgery.
Wow. Did not see that one coming. At all.
Yes, I have melted down in tears and expressed my fears, but I am melting into Him.
I don't see this as God testing my faith. I see Him walking beside me and providing for me in ways I can't imagine. His provision has come in the form of new friends, exciting projects, laughter and more laughter. I see how He has provided these things for me. I look back in my journal and see prayers for "people, love, laughter, fun, and provision." He has answered these prayers and they are now tools to keep my heart STEADY through a difficult situation.
As I sat in my neurologist's office listening to them tell me about my condition (particularly why it is causing me balance problems), I realized I was holding onto my My One Word necklace with the word "Steady" beautifully stamped on it. All I could do was smile. It reminded me He has been with me the whole time, keeping me steady and leading me with my one word.
I just needed to pay attention.
As I sit here typing this story, I think of my surgical consult appointment coming in a few days. It's a big deal. I know the reality is that I will likely need the surgery. I'm not in denial. But because I have been journaling and paying close attention to My One Word, my fear of these circumstances has moved to faith.
I am not afraid.
He has given me all I need to remain STEADY in Him."
– By Katie Hicks